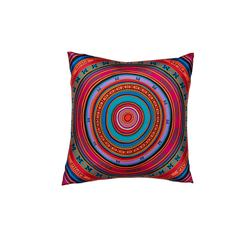 Vintage Hermes
"Tohu Bohu" Hermès Silk Scarf Pillow
Selectively sourced, our vintage Hermès silk scarf pillows are a thing of beauty. Special attention is paid to the workmanship to ensure these vintage treasures are well cared for. The only problem you'll have is choosing which one you want to take home.


22" x 22" x 8"
Hermès Silk Pillow made from a rare, vintage Hermès scarf entitled "Tohu Bohu" by Claudia Stuhlhofer-Mayr.
Created using the entire scarf with a hidden zipper and a goose down and feather insert. Excellent condition.
100% Hermès silk. Dry clean only.
Final sale.